In April 2004, some fifty years after Frida Kahlo's death, the curator of her house museum in Coyoacán gained access to a number of rooms in the attic and private quarters that had been reserved for the artist's surviving housekeeper. Inside was a trove of Kahlo's personal items assembled over a lifetime of collecting all forms of Mexican artifacts. Kahlo and her husband, the artist Diego Rivera, were champions of Mexican cultural independence and had consistently sought to establish a national renaissance based on the material culture of pre-Columbian civilizations and the indigenous popular culture of Mexico. Rivera amassed the largest private collection of pre-Columbian artifacts, which became the core of the Anahuacalli Museum, designed by Rivera himself and serving as a monument to his political and aesthetic values. The pattern of Kahlo's collecting was always more precise and self-referential. Amid an array of jewelry, ceramic wares, figurines, featherwork, and ex-votos was her considerable wardrobe of dresses, shoes, corsets, shawls (rebozos), embroideries, and samples: indeed, a lifetime of garments that were an integral part of her public persona. These clothes are the subject of an exhibition at the Casa Azul, Appearances Can Be Deceiving: The Dresses of Frida Kahlo, which reveals the astonishing richness of the discovery.
Kahlo has emerged in recent years as the iconic figure of modern Mexican culture, eclipsing earlier figureheads such as Emiliano Zapata, Pancho Villa, and Diego Rivera himself. There are many reasons for this in the historiography of modern art, but a key feature has certainly been the close identification between her life and her art—indeed, between what she painted and how she looked. The predominance of self-portraits in her work and the emphasis on quite surrealistic renderings of her personal history, her various romantic associations, and her tastes have all combined to forge an exceptional public image. It helps, of course, that she had very distinctive Latin features, marked above all by her powerful conjoined eyebrows that became evocative shorthand for her entire persona. She herself worked hard to construct this image and indeed to place her life and appearance at the center of her art. Her father was a successful portrait photographer in Mexico City, so she understood the ways in which a public persona could be created and the role that photography could play in that process. In this, her clothes were as important as her hairstyle, her pose, the lighting, and the setting. Few modern artists were as well photographed as Kahlo, and even fewer conscripted photography so effectively.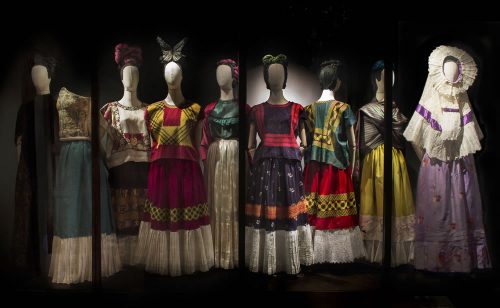 In creating her distinctive clothing style, Kahlo favored the Tehuana dress from the Tehuantepec Isthmus in Oaxaca in the southeast of the country, the region from where her mother came. The traditional society there was matriarchal, administered and dominated by women whose attire symbolized female power and independence. One can easily understand how this garment helped to define Kahlo's identity and to portray her cultural heritage and political beliefs. The dress consists of two main sections: the embroidered blouse, or huipil, and a full-length skirt, or enagua. However, the dress was always to be seen as part of a larger ensemble that incorporated a braided hairstyle, ribbons, jewelry, a patterned belt, and even fresh flowers to create a richly ornate effect from head to toe.
There was another personal reason why Kahlo favored this type of garment that related to her physical health. Like Van Gogh's ear and Joseph Beuys's burns, Kahlo's disabilities have become a key part of her life story and her art. At the age of six, Kahlo contracted polio, leaving her with one withered, shorter leg for the rest of her life. To conceal this physical deformity she began to dress in traditional long skirts at an early age and to wear multiple pairs of socks and stockings on her leg with the thinner thigh and calf. If this physical hardship were not bad enough, in September 1925 at age eighteen Kahlo was involved in a horrific accident when her bus was hit by a tramcar. The impact of the crash fractured her collarbone, spine, and foot, and a steel handrail passed through the left side of her body, piercing her abdomen. She endured many operations to try and correct the physical damage, and it is clear that she suffered considerable pain for the rest of her life. It is small wonder that this event should become one of the central preoccupations of her art while also being a constant feature of her day-to-day life. She adopted remarkable strategies, however, to conceal her physical deformities and, at the same time, to bring out her most distinctive characteristics. The long rectangular skirt of the Tehuana dress was an obvious solution to cover her weakened legs, but the fact that the upper body and head were the main focus of the embroidered patterns, jewelry, and floral accoutrements of the ensemble drew attention to what she recognized as her finest features. In this type of sartorial adornment, Kahlo was a virtuoso. The novelist Carlos Fuentes has described how her arrival at the Palacio de Bellas Artes in Mexico City would be announced by the sound of her jewelry, and how the architectural grandeur of the palace would be instantly outshone by her striking presence.1 Some of her closest friends recalled how Kahlo would take special care in choosing each one of her garments, styling herself from head to toe with the most beautiful silks, lace, shawls, and skirts, many of which are on display in the exhibition.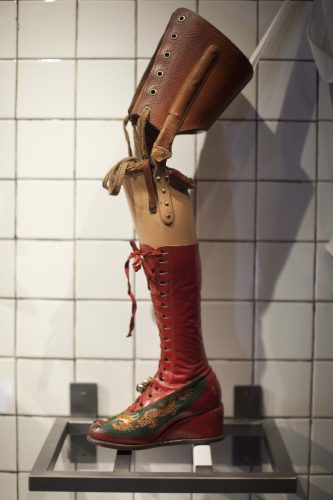 An aspect of this self-fashioning was Kahlo's attention to the props and paraphernalia of her disability. Her pink leather boots, one with a built-up sole and heel to compensate for her shorter leg, were painted with floral patterns to enliven their appearance. Her relationship to the corset was one of support and need: her body depended on medical attention, and she was often required to lie encased in a plaster sheath for weeks on end. Far from allowing the corset to define her as an invalid, Kahlo decorated and adorned her molded plaster chest supports, making them a field for her visual creativity and part of the construction of her looks. There is a remarkable photograph by Juan Guzman from 1950 of Kahlo lying in her hospital bed, fully made up with ribbons in her hair, painting the plaster corset she is wearing with the aid of a mirror. This photographic dimension is a key aspect of the exhibition, since the numerous images of Kahlo spread throughout the five galleries bring the ensembles displayed on the mannequins to life.
Kahlo's many friends and lovers also populate these photographs—Leon Trotsky, Tina Modotti, Andre Breton, Sergei Eisenstein, Isamu Noguchi, Josephine Baker, and of course Diego Rivera—giving a rather glamorous, cosmopolitan sheen to her lifestyle that must have been at odds with the physical hardships. One would expect someone with such distinctive style to be taken up by the fashion world, and in October 1937 Edna Woolman Chase featured Kahlo in the pages of American Vogue. The fascination with Kahlo's face and dress style has continued up to the present across a wide variety of high and popular contexts, emblazoned on posters and t-shirts sold on the streets, and enacted in children's "look-alike" contests. It was noted that, during the disastrous speech given by British Prime Minister Theresa May at the recent Conservative Party conference, she was (somewhat bizarrely) wearing a bracelet composed of miniature portraits of Kahlo.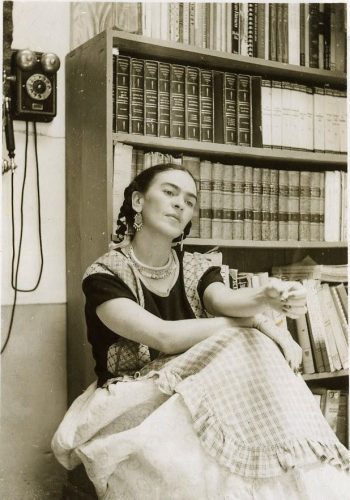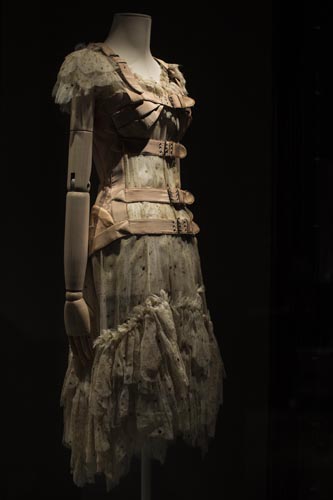 Vogue magazine is one of the sponsors of the exhibition, and in this spirit, contemporary couturiers, including Jean Paul Gaultier and Riccardo Tisci of Givenchy, have been commissioned to design outfits inspired by Kahlo, which are on display in the final gallery. After the rich layers of meaning revealed in the main part of the exhibition—Kahlo's repurposing of the complex traditional Mexican peasant clothing to express her political and aesthetic ideals, the photographs that project her constructed image, and the close personal and physical association of the clothes with her ravaged body—the modern attempts at capturing her style seem rather bland. Nevertheless, the exhibition is engrossing and draws the spectator into a deeper consideration of the role that clothes played in an extraordinary life.
Katri Walker is a visual artist and filmmaker based in Mexico. Her most recent exhibition, Buscando paraiso, at Arredondo/Arozarena in Mexico City in 2017, explored historic and contemporary notions of paradise.
---